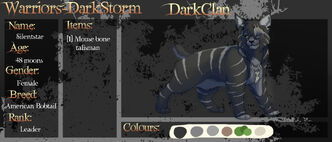 Kit: Silentkit
Apprentice: Silentpaw
Warrior: Silentsong
Deputy: Silentsong
Leader: Silentstar
Gender: She-Cat (Female)
Mother: Amberflare
Father: Crowtail
Brother: Ratstar, RedFoot
Sister: Moonkit
Age: 48 Moons
Deviant Name:
Ref Link:
Description
Edit
To be added...
Appearance
Edit
Darkly colored tabby, rare dark base color with lighter stripes. Short, bobbed tail, breed standard of the American bobtail. No left eye, scars left by an attack from her mother at a young age. Tufts at ears, emerald green eyes, and a mouse skull talisman hanging from her neck.
To be added...
Ad blocker interference detected!
Wikia is a free-to-use site that makes money from advertising. We have a modified experience for viewers using ad blockers

Wikia is not accessible if you've made further modifications. Remove the custom ad blocker rule(s) and the page will load as expected.